Digital Workspace vs. Digital Workplace: What are the Differences?
When it comes to remote working, the terms "digital workplace" and "digital workspace" are used frequently. What do they have in common, though?

The majority of people consider the phrases 'workspace' and 'workplace' to be interchangeable. There are, however, significant differences between the two, particularly in the digital industry.
What is a Digital Workplace?
A "digital workplace" is a cloud-based work platform that allows for the virtualization of the whole work environment. In a secure online interface, you'll find all the apps, data, tools, and collaboration capabilities you need to get work done.

Of course, this work platform should be accessible at all times, from any location, and on any device.

We could say that the virtual version of your entire office would be a digital workplace. A digital workplace solution, to put it another way, is creating an online environment where people interact and collaborate while working from home.

It's a single web platform that connects and coordinates all of the employee-specific apps. As a result, a digital office might often include many workspaces.

A digital workplace solution provides for the following:
Teamwork
Resolution of issues, flaws, and tickets
Multiple workspaces can be managed
Repetitive tasks can be automated
Management of overall access
Third-party application integration
Auto-generated reports
There are several advantages to using a digital workplace. The following are only a few.
Better employee experience
It automates repetitive procedures, saving both time and money.
Improved collaboration
More visibility and control over projects
What is a Digital Workspace?
A digital workspace is a piece of software that allows people to work online by storing and managing data, task management functions, and other features.

A digital workspace is a virtual replica of your own workstation. In essence, the digital workspace is a set of ever-evolving technologies that allow you to work from any device, at any time.

The following are some of the most common components of this integrated technological framework:
Virtualization of applications and desktops
Content collaboration and file sharing
Secure access to SaaS apps
Unified endpoint management
Single Sign-On (SSO)
Automated workflow
Working remotely may be a lot more productive and efficient if you use the correct sort of digital workspace with the proper functionality. A digital workspace also has the following advantages:
Improved employee satisfaction
Improved security
Flexibility in adapting to new technology
Now that we've explained each term, let's look at some of the key differences between a digital workspace and a digital workspace.
1. Flexibility
Task-specific digital workspaces are increasingly common, whereas a
digital workplace solution
is more constant throughout time. This work environment facilitates the storage of documents and data, as well as access to tools and other resources that help employees collaborate productively.It's all about the employee experience and creating a company culture, just like in the actual workplace.

The digital workspace, on the other hand, adapts to your needs and tasks. When you use a list-making tool to manage tasks, for example, it becomes your workspace.

Also, when you work on a social media management tool to plan and manage social media postings, the platform serves as your digital workspace for those tasks.
2. Size
A digital workspace is a part of a wider digital workplace setting. Consider it this way: it's similar to a workstation, which is only a small fraction of the whole workplace.

While a digital workplace solution offers the essential infrastructure for work to be completed, it is also where the work is completed.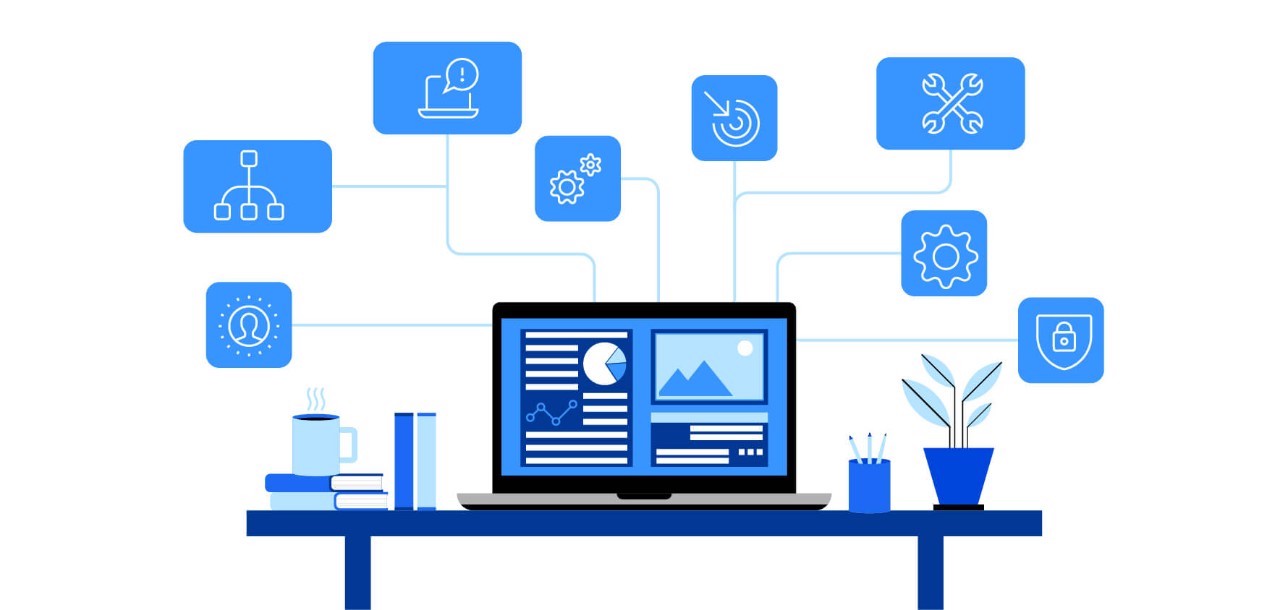 3. Impact
The digital workplace not only outnumbers the physical workplace in terms of size but also has an influence on the digital workspace's nature. It has an influence on how employees operate,
communicate
, and collaborate in every way.
Data on platform performance and staff comments are utilised as a part of the optimization process to enhance how work is done. This might include changes to technologies or practices that have a direct influence on digital workspaces.
The work culture that is applied in digital workspaces is determined by your digital workplace.
In a Nutshell
Simply put, a digital workspace is similar to a workstation, whereas a whole office is similar to a digital workplace.
You'll need a reliable smart office service provider if you want to establish a well-rounded digital workplace that allows you to manage several workspaces with file and link sharing, bookmarks, applications, and password management.