What is Enterprise Content Management
Businesses are constantly improving their strategies to enable them to run their operations efficiently and achieve their goals. One such innovative method is enterprise content management (ECM).
Enterprise content is a systemic approach to obtaining, organising, and storing structured and unstructured information in a centralised repository, which is critical for efficiently managing a business.
Data ranging from databases to office documents are stored using this software. The information stored has also evolved over the years to include audio and video files, social media posts, PDFs, and more. Stakeholders, customers, and employees can access the stored information.
How Enterprise Content Management Works
The key function of ECM is to serve as a collection of tools and strategies to gather, store, and retrieve key organisational data.
The data is collected and compartmentalised in a central database. The ECM can be used to make a duplicate or near-duplicate of the information stored instead of making hundreds of copies. The duplicates are stored in folders and accessible by certain people at the right time.
Users can retrieve information using full-text searches. The ECM software retrieves the document and presents it to the user to read on screen, edit, or print. The user can perform these actions regardless of their location.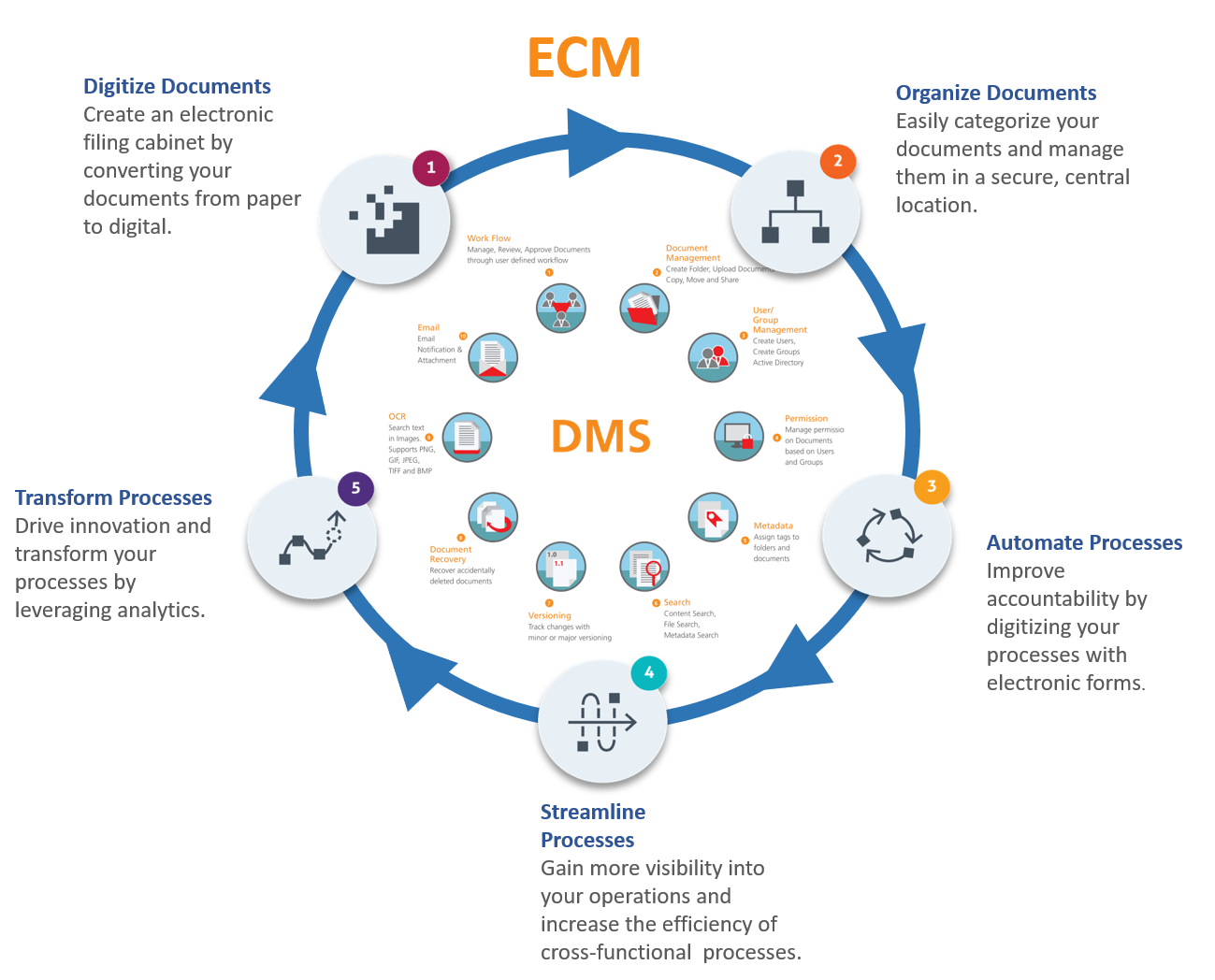 Benefits of ECM
Boosts Productivity

ECM software ensures that the organisation has the right information to run its operations optimally and effectively. To efficiently manage a business, leadership needs information, and an ECM business tool ensures that users have the data they need at their fingertips.

Additionally, using its workflow-tasks features enables users to execute high tasks efficiently without running the risk of making an error.

Increases Customer Satisfaction

The ability of customer service representatives to solve customers' complaints is one of the keys to attaining business success. When customers are happy with their issues solved, they are bound to come back and even spread the word about your business.

ECM software provides a solution, allowing users to easily fetch the answers to the customers' questions whenever they want.

Reduces Costs

Moving content around on paper not only takes up space but also eats up finances. Traditionally, businesses recorded content and data on paper. The papers used to store the information, preserving the papers, and printing can all get expensive.

With an ECM solution, content is stored and moved electronically using the ECM software's imaging and workflow features. Moving content this way saves a lot of money.

Enhances Collaboration

One of the ways to tune up organisational productivity is to better team member collaboration. Whether they are in the same office or different locations, working with a team should be seamless and effortless.

ECM software eliminates the need for physical collaboration before a team can execute a task. With this tool, members can communicate and work online with electronic documents, boosting the productivity of the team and the organisation overall.

Allows for Easy Document Retrieval

Retrieving paper documents can be time-consuming. It could take hours, days, or weeks to do and can get in the way of achieving a task and strengthening productivity. An ECM solution prevents this setback from rearing its ugly head.

The documents stored on a central database can be retrieved instantly whenever needed, making document retrieval much less time-consuming.

Provides Easy Access

Because they are stored in a database, relevant documents and data can be accessed from anywhere. This system is so much better than traditional document and data storage methods.

Whether you are at home or on the road, you can retrieve the documents you need to get the job done. All you need is the software and a mobile device.

Enables Quick Decision-Making

Businesses make the best decisions when they are armed with the necessary information. More often than not, leadership needs to make business decisions urgently to make use of an opportunity.

ECM software provides business decision-makers with relevant information to make well-informed and fast decisions.
In a Nutshell
Enterprise content management enables businesses to manage their documents, collaborate closely and make decisions effectively.
Today, more and more businesses are opting for it over paper management methods. Businesses that make full use of enterprise content management services can increase their competitiveness and take their business to a higher level.