Cloud Infrastructure Service and How Does It Actually Work?
The cloud computing model has transformed the way most companies manage their information technology systems and resources over the last two decades, which includes allowing process automation solutions.
Previously, a company that wished to have an IT infrastructure had to build its own on-premise IT infrastructure.
This entailed leasing a data centre (with an upfront capital expenditure of new computer equipment) and building in-house capabilities for application development and maintenance.
Many small and medium-sized businesses found the enormous technical and financial requirements of creating and maintaining IT infrastructure highly expensive.
Things have changed. Today, cloud infrastructure services enable enterprises to have access to the data storage and computing capabilities they demand on an as-needed basis and at a substantially lower up-front cost.
Instead of building its own on-premise IT infrastructure, a company can pay a third-party cloud service provider to rent its facilities and capabilities.
What is a cloud infrastructure service?
The phrase "cloud infrastructure" refers to the server hardware, storage resources, networking equipment, and application software needed to develop cloud-based services.
A cloud infrastructure's hardware and software components guarantee the smooth deployment of a cloud computing model for an enterprise.
A cloud architecture allows enterprises to operate with a hassle-free on-premise IT infrastructure by providing on-demand access to computing resources. It's a service that most cloud providers offer, and it works with public, private, and hybrid cloud systems.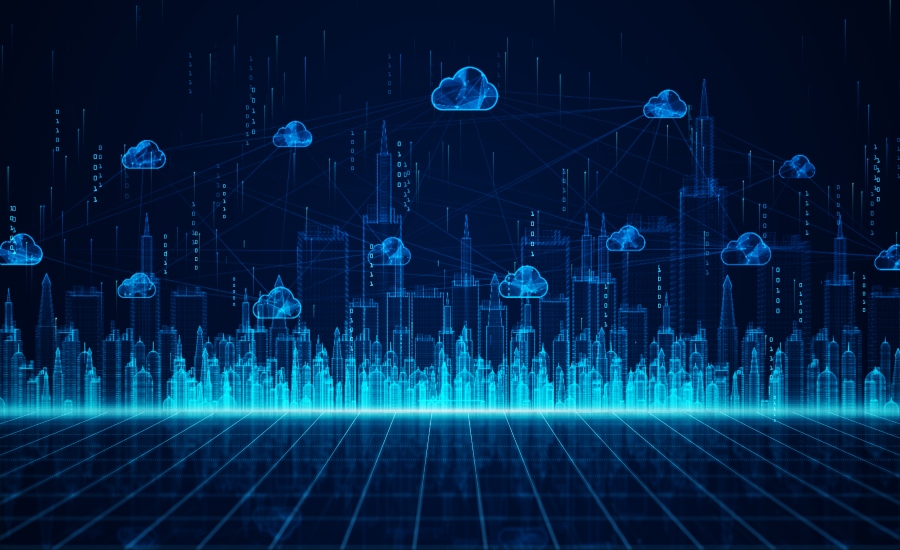 How does the cloud infrastructure service work?
Organizations utilize cloud infrastructure components as resources and services over a dedicated internet connection in an infrastructure as a service (IaaS) model. Users pay a monthly fee to use the infrastructure on a pay-as-you-go basis.
In addition to the fundamental cloud infrastructure services, cloud service providers also offer a variety of specialized services. Examples are virtual private clouds, load balancers, domain name services, application delivery controllers, firewalls, and more.
IaaS (Infrastructure as a Service) is often priced metered by cloud providers, with charges correlating to consumption at a specific level of performance. The following are some examples:
increases in the size of a standard virtual CPU and its associated memory
Storage service type (object or block), performance level (SSD or HDD), and accessibility
Usage per unit time, often per month, is often used to calculate capacity.
IaaS providers will usually offer a discount if you use a constant level of computing capacity for a set period of time. Customers can also save money by prepaying for a guaranteed amount of capacity for a month, year, or several years.

The Benefits of Using a Cloud Infrastructure Service
When compared to establishing and operating an in-house infrastructure, using a cloud infrastructure service offers various advantages to consumers. Two of the most important reasons for using a public cloud service are cost and safety.
1. Flexibility
Customers can obtain resources quickly and self-manage the resources to better align with business goals. This is especially helpful for quickly moving applications from on-premises to the cloud to take advantage of more resources.
2. Reliability
The extensive infrastructure and redundancy options provided by cloud providers via availability zones enable reliability on a scale that exceeds any one customer's in-house capabilities.
Customers should plan how much they use the cloud based on how reliable and up-and-running their workloads need to be.
3. Cost
The use of cloud infrastructure reduces the upfront capital expenses associated with on-premise infrastructure in favour of a consumption-based strategy.
This pay-per-usage model charges consumers just for the infrastructure services they use, which are often charged hourly, weekly, or monthly. Moreover, huge capital costs for infrastructure investments on-site are reduced to a smaller, recurring, and predictable operational cost.
4. Security
Cloud companies are continually investing in and improving their ability to defend their infrastructure against security threats. The majority of cloud security concerns are caused by user misconfigurations of specific services rather than by external bad actors.
In Summary
Cloud infrastructure services today encompass a wide variety of possibilities, from storage, networking, and computing power to natural language processing, artificial intelligence, and traditional office programs.Almost any service that does not require you to be physically close to your computer hardware can now be offered over the cloud.
One advantage of employing cloud computing services is that businesses can avoid the upfront costs and complexity of building and maintaining their own IT infrastructure by just paying for what they need when they use it.