Elements or Characteristics of a Smart Classroom
Technology-enabled education is becoming more prevalent in Malaysia, creating a path for smart learning.
In fact, smart classrooms have risen to prominence as a result of the integration of modern hardware and cutting-edge software technology, such as smart whiteboards, interactive whiteboards and video conferencing to improve teaching and keep track of students' progress.
What is a smart class?
A smart class helps students process information, gain background knowledge, and turn their learning into useful outcomes.

Various assessments are weaved into the smart class process to help students develop deliberate and advanced learning. A virtual classroom can be termed a "smart class." Smart classrooms in Malaysia also mimic the capabilities of traditional classrooms.

These are the elements or characteristics of a smart classroom:
Hardware Equipment (Desktops, laptops, tablets, iPads)
LCD projectors
DVD/VCR Combo
Microphones
The must-have set of smart classroom equipment is as follows:
Learning Management System
Interactive Control Center
Class Pad
Interactive Whiteboards
Classroom Control System
Response Pad
On-Demand Collaboration
On-Demand Visual Learning
Classroom Capture
Interactive Displays
You need a reliable smart classroom solution provider in Malaysia to help you set up a functional digital classroom, in addition to understanding the advantages and characteristics of a smart classroom.
RICOH's smart classroom solution offers a wide range of highly interoperable technologies that can assist in meeting the demands of a digital classroom.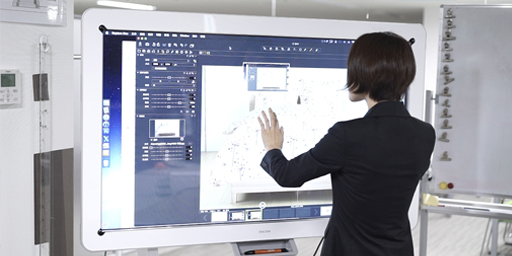 Interactive Whiteboards
RICOH's interactive whiteboards consist of a computer, a projector, advanced software technologies, and a display panel. They're controlled by a touchpad that's connected to a computer and linked to a projector.

The teacher has complete control over the content, which can be copied or moved to another slide. They have several qualities that help to improve educational quality, including:
Dealing with a wide range of media content, including video and presentations.
A spotlight that can be used to draw attention to a specific region.
A screen shade that can be used to hide and display information as you desire, such as questions and answers.
A pointer that can be used to highlight specific areas on the board.
Better Presentation Tools
Presentations have long been a part of young learners' education. Visualizers, also known as document cameras, have replaced standard backlit projectors in the smart classroom.

These simple presentation tools offer high-quality visuals, zoom, and connectivity choices, all of which are essential for an effective classroom setting.

Teachers can display any type of learning material to students not only from the front of the classroom but also directly to student devices with an interactive whiteboard, allowing students to experience science or maths class from a new and exciting perspective.

Thanks to built-in recording, streaming, and annotation features, students will never miss a detail.

Distance Learning Systems
Even in the world's most populous regions, there appears to be one thing that all schools have in common: a scarcity of teachers who are experts in all subjects.

Classroom conferencing systems have grown in popularity as a way to bring more expertise into the classroom by allowing students to communicate with people from all around the world.

RICOH's classroom conferencing systems not only connect students with teachers but also allow them to engage in a wide range of activities beyond the classroom.

Students can have a fresh experience every day without ever leaving the classroom thanks to culture-sharing activities and guest speakers from all around the world. This saves money on travel for schools while also giving pupils a unique learning opportunity.


In a Nutshell
Smart or digital classrooms encourage creativity, and an interactive atmosphere will encourage students to come up with more innovative ideas, questions, and solutions.

As a result of RICOH's dynamic smart classroom solution, students' knowledge is broadened and informal learning is encouraged.