Penang, October 2017 – Ricoh Malaysia, a global leader in the office solutions industry, works with PKT Logistics, a leading homegrown logistics services provider, to take warehousing to the next level by equipping PKT's Penang-based One Auto Hub Logistics, The 12 Waves with holistic surveillance solutions.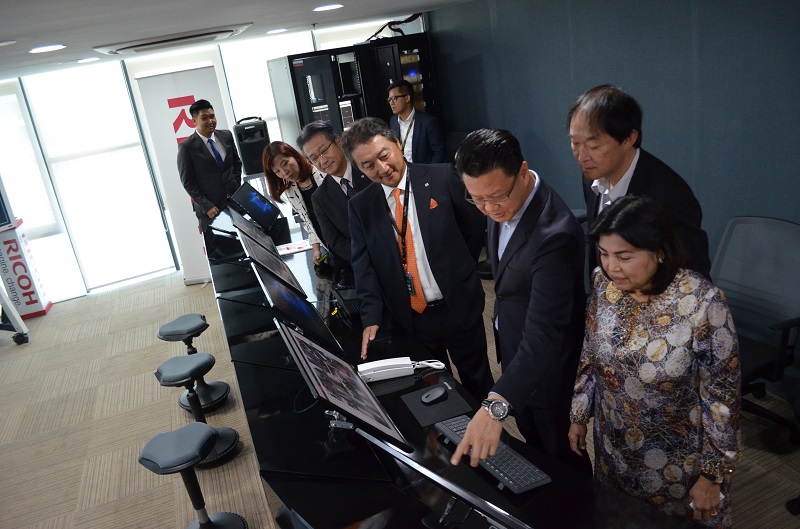 Ricoh and PKT at the Command and Control Centre
The 12 Waves is PKT Logistics Group's fourth addition to its line of iconic warehouses such as The Waves, The Ship & The Lighthouse. Based in Batu Kawan, The 12 Waves has an unconventional wave-shaped design which not only stands out aesthetically but incorporates environmental features such as natural lighting, natural ventilation, solar panels and LED lighting. Completed in May 2017, The 12 Waves offers 650,000sf of storage space with 54 loading bays to serve customers from all sectors in the North including automotive, electronics and many others. Besides that, the 12 Waves will also incorporate office suites, a food court, a convenience store, a Japanese garden and a trucker's lounge which will be open to the public.
Above all that, PKT noted that security is of utmost importance to retain customers' confidence hence the collaboration with Ricoh Malaysia to equip the entire site with integrated analytic systems to enhance the overall security of the warehouse.
Both parties worked closely together and focused on careful planning in key areas to implement Ricoh's solution of intelligent network cameras, Automatic License Plate Recognition (ALPR), Access Control System, Alarm system with 24/7 Central Monitoring System (CMS), Visitor Management System (VMS), LED motion floodlight system among other solutions to optimize operation processes.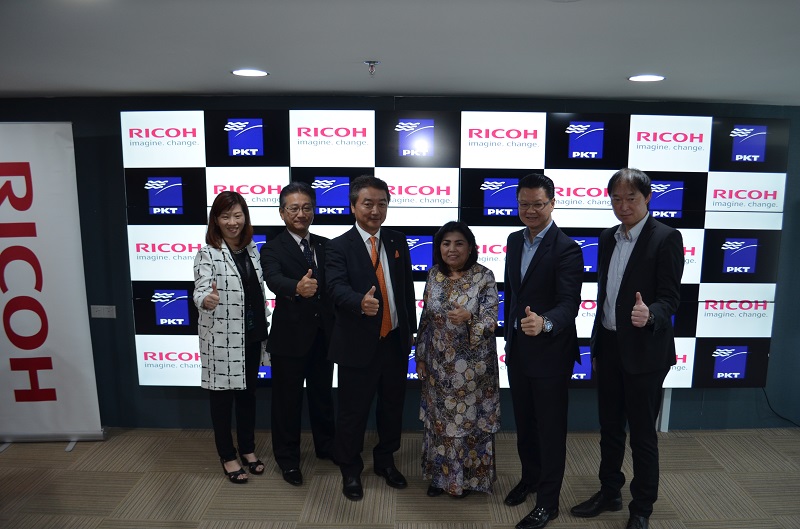 Ricoh Representatives and PKT Logistics CEO and Board Members
"We are pleased to collaborate with one of the region's largest logistics company to furnish their Penang warehouse site with Ricoh's multiple services. Like PKT, we share a similar goal to take businesses to the future with innovative and digital capabilities. We applaud PKT's aim and vision of bringing advancement to the Malaysian logistics industry. As we imagine. change., we look to working closely with PKT to empower their logistics service with the right tools – from innovative surveillance solutions to managed information services," commented Kazuhisa Goto, Managing Director of Ricoh Asia Pacific.
The 12 Waves will boast a comprehensive suite of security solutions that includes hardware and services. The entire setup was specifically designed to provide high security to the premises and assets, giving PKT's customers peace of mind and confidence.
"With every new warehouse that PKT builds, we continuously invest effort and resources in improving it in every dimension possible such as space optimisation, environmental impact, functionality, safety, security and others. Coupled with attractive, themed designs of our warehouses, we aim to provide industry-leading storage solutions to our customers. Therefore, PKT is proud to partner Ricoh in bringing the most advanced and holistic security system to The 12 Waves" remarked Dato' Michael Tio, Group Chief Executive and Managing Director of PKT Logistics Group Sdn Bhd.
To find out more, visit www.ricoh.com.my and www.pktgroup.com
***END***
| About Ricoh |
Ricoh is empowering digital workplaces using innovative technologies and services enabling individuals to work smarter. For more than 80 years, Ricoh has been driving innovation and is a leading provider of document management solutions, IT services, commercial and industrial printing, digital cameras, and industrial systems.
Headquartered in Tokyo, Ricoh Group operates in approximately 200 countries and regions. In the financial year ended March 2017, Ricoh Group had worldwide sales of 2,028 billion yen (approx. 18.2 billion USD).
For further information, please visit www.ricoh.com