Are Short-throw Projectors a Good Choice for the Office?
Short-throw projectors provide several benefits over conventional or long-throw projectors. Casting an image larger than 100 inches in a small space is the primary advantage of a short-throw projector.
A short-throw projector may be a fantastic investment if you want a projector for office use (or for your conference room) but don't have a lot of space. However, it's also great for large areas.
A short-throw projector can also be put on a coffee table rather than ceiling-mounted, depending on the size of your office.
As a result, short-throw projectors are ideal for mobility since they can be set up almost anywhere, including directly in front of the spectator.
Is a short-throw projector ideal for office use?
If you're still not persuaded that a short-throw projector can help you achieve your business objectives, consider the following reasons for selecting the best projection system for your company:
Enhancement of Presentations
A decent short-throw projector may dramatically enhance the way you hold meetings or deliver a sales pitch when used correctly. This is because the best projectors generate stunningly clear images.
Requires Small Space
Short throw projectors are intended to display large images – as large as 100 feet – even if they are just a few feet from the screen where the images are projected, using less room than traditional projectors.
Installation is Flexible
Because of how short-throw projectors are built, you may either place the projection unit on a sturdy surface or hang it from the ceiling.
Modern Tech
Most short-throw projector models on the market now come with the most up-to-date technology in terms of picture quality, power efficiency, and lamp life. You can expect a short-throw projector's technology to last for years if you buy one now.
Here's a list to keep in mind when selecting a short-throw office projector.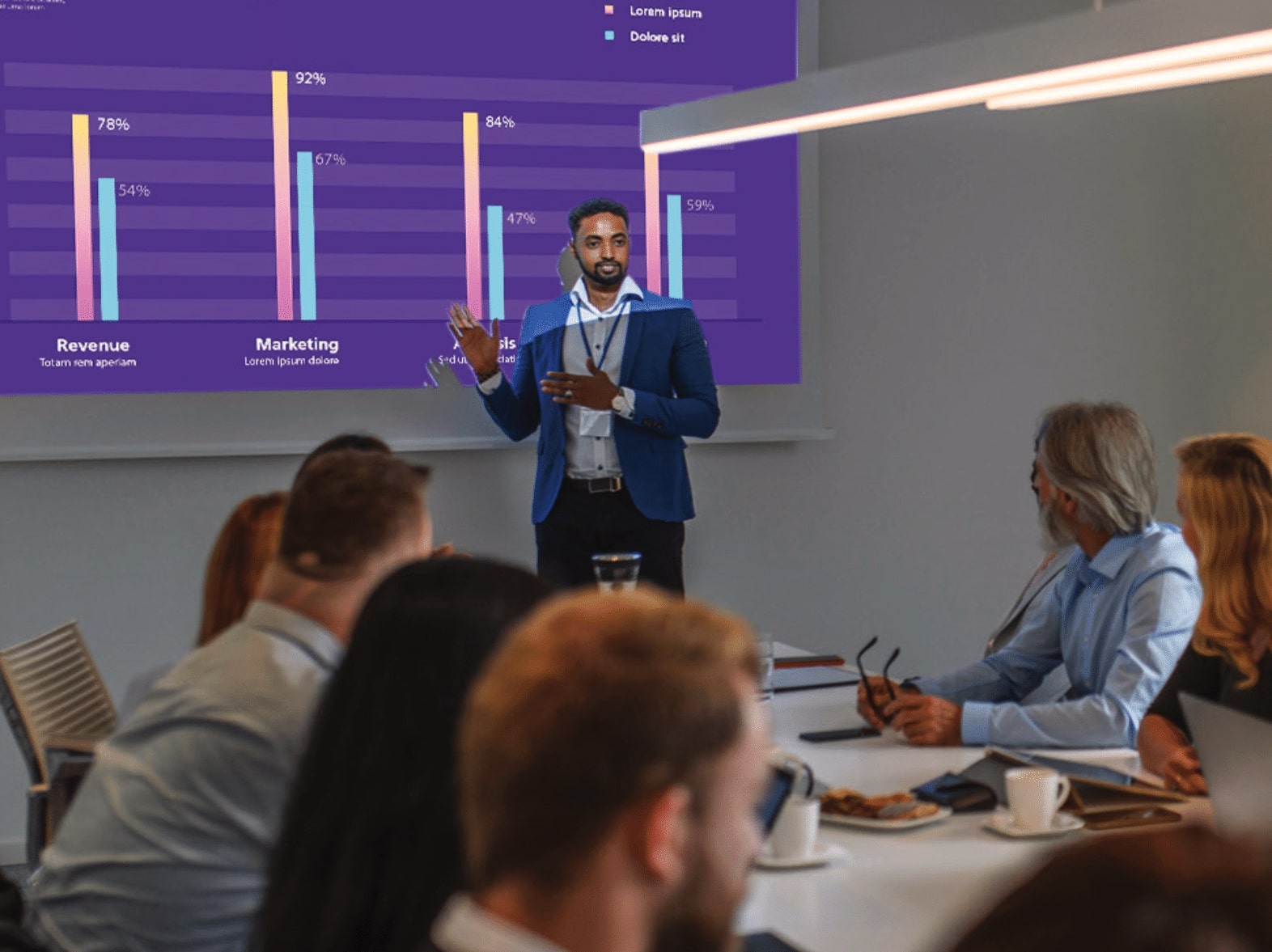 User-Friendliness

During a business meeting, you probably don't want to struggle with turning on the short throw projector or altering its settings.

Make sure the projector you're considering buying is simple to set up, connect to your source device, and is user-friendly for those who aren't too tech-savvy when it comes to projectors.

Brightness of the Lamp

When looking for the best short throw projector, another thing to keep in mind is brightness. The lumens rating, which indicates the amount of brightness a projector can generate, is available in many projectors.

If the location where the projector will be used is dull or gloomy, a low lumens rating may be sufficient. Offices with ambient lighting, on the other hand, require a projector with a lumen capacity of at least 2,000.

When it comes to lights, most projectors are built with a longer lamp life in mind. Aside from the lamp's physical construction, specific projector models have an Eco Mode setting that can extend the lamp's life even more.

It will also help you save money on electricity, which is always a plus for any business.

Room Dimensions

Make careful to estimate the size of your space before you go out and buy the current model. The throw ratio, the distance between the projector lens and the screen where the picture is projected, will be helpful.

A short-throw or ultra-short-throw projector will be required in small rooms. In theory, though, the same projectors will perform well in big spaces such as home entertainment centres or office conference rooms.

Connectivity

VGA and HDMI connections are built into the same basic architecture of traditional projectors. The majority of today's short-throw projectors, on the other hand, feature numerous connection connectors. DVI, USB, Mini USB, and AV connections are just a few of the options.

Some projectors, on the other hand, come with wireless connectivity, such as Bluetooth and WiFi. Wires and cables are no longer required because of these qualities. Say goodbye to port incompatibility and wire management.
In a Nutshell
Companies are constantly striving to get the best results possible using the most efficient resources available. Businesses can impress customers and generate substantial sales and followers by employing a well-priced short throw projector.